Adventist Review News
---
North American Division News
International Pathfinder Camporee Promotes Diversity, Relationship-Building, and Christian Values
More than 55,000 people from 100 different countries recently made their way to Oshkosh, Wisconsin, for the 2019 Chosen International Pathfinder Camporee. AdventHealth president/CEO Terry Shaw, and many AdventHealth board members, leaders, and employees were also present to experience the massive youth event.
"I had a great time visiting the camp, and interacting with the kids," said Shaw. "AdventHealth is committed to investing in the next generation and that's why we participate in sponsorship opportunities such as this that encourage whole, healthful living."
Taking place every five years, the International Pathfinder Camporee is the largest Pathfinder-related event of its kind, featuring activities, competitions, exhibitions, worship programs, and more. AdventHealth, one of the largest faith-based health systems in the U.S., signed on as a major sponsor for the 2019 camporee.
"AdventHealth is such a unique organization focused on doing good in the community," said Ron Whitehead, camporee executive director and youth ministry director for the Lake Union Conference of Seventh-day Adventists. "That's what Pathfinders want to do, too. It's such a beautiful match and we're just honored to have AdventHealth as the primary sponsor of the International Pathfinder Camporee."
And not only were they present at the camporee, AdventHealth attendees also participated in various activities during their time at the event, including the following three key highlights.
International Food
An event that brings people together from all over the world also brings a variety of international foods together. The camporee's food stands, run by Pathfinder clubs and church ministries, feature menu items ranging from quick snacks to full meals, including Salvadoran pupusas, Native American fry bread, Caribbean roti, Indian naan, and Italian pizza. Trying out the different cuisines is an enriching experience in and of itself, and a testament to the global reach of the Pathfinder ministry.
"The International Pathfinder Camporee is one of the most significant events of the Adventist Church," said Ronald Smith, member of the AdventHealth Board and president of the Southern Union Conference of the Seventh-day Adventist Church. "It's a smorgasbord — from a collection of young people from across North America and around the world." 
And of course, at a large-scale Adventist event such as this, you can't leave out the haystacks. 
Collectible Pins
AdventHealth team members attending the camporee also had the opportunity to participate in pin trading, a tradition dating back to the 1990s. For the 2019 camporee, designs came from around 100 different entities and ministries, including AdventHealth, which designed four pins for the event: an "I care for your like my Friend" heart; a female doctor with an AdventHealth logo; an AdventHealth helicopter; and an AdventHealth #40 NASCAR racecar.
"Pins are the number one commodity at camporee!" said Juleun Johnson, director of mission and ministry for AdventHealth Celebration. "You can sell stuff here, but to trade pins is better. I have a lot of pins, but I definitely have to represent AdventHealth with the #40 racecar pin."
For Johnson, Shaw and many others, camporee pins serve as nice souvenirs to bring back home.
Communal Worship
The highlight of every evening at camporee is the program on the main stage. All 55,000 attendees gather in a large outdoor arena to witness Pathfinder talent, participate in praise and worship, watch the Bible story of David and Goliath come to life in a live reenactment, and listen to a message from the featured speaker.
Camping and worshipping with thousands of other people, the AdventHealth attendees witnessed firsthand the importance of events such as the International Pathfinder Camporee.
"The experience is difficult to describe unless you see it," said Obed Cruz, chief nursing officer for AMITA Health Adventist Medical Center Bolingbrook, Illinois, part of a joint operating company formed by AdventHealth and Ascension. "The camporee organizers do not hold back at all when it comes to the nightly presentations. Not only is the music great, but the acting is great and the story is amazing. It's probably one of the most important events that we could send our kids to."
— Ingrid Hernández is senior communications specialist for AdventHealth.
kmaran
Wed, 08/21/2019 - 10:37
Pathfinders Earn Limited Edition Southern Tidings Magazine Pin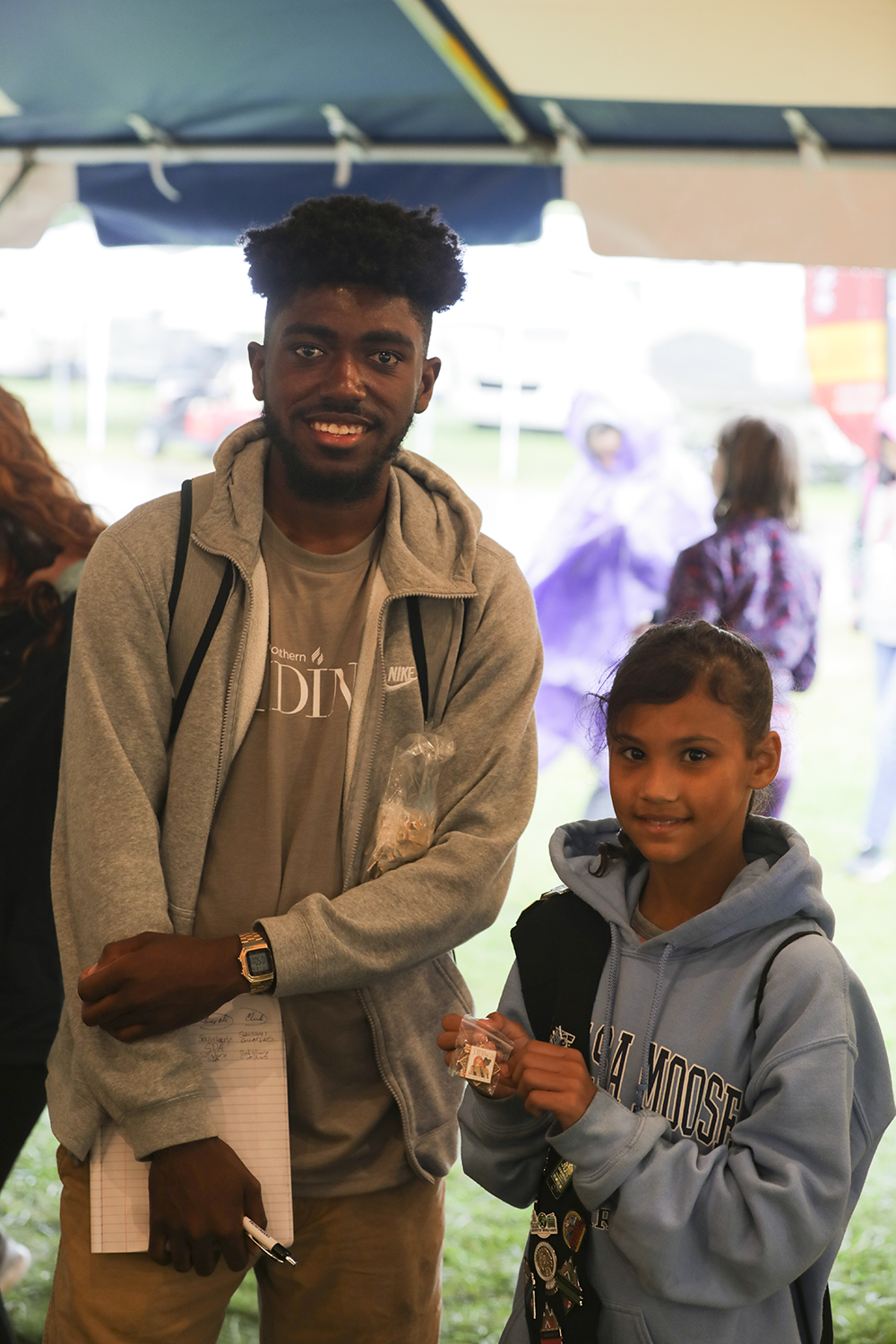 Can I have that pin? Where can I get that pin? Can I trade for it? All of these and more are questions asked by campers interested in the Southern Tidings trading pin at the 2019 Chosen International Pathfinder Camporee. Campers from all over have been trying to get their hands on the limited-edition Southern Tidings trading pin. The pin has even gained the attention of counselors, staff, pastors, and church administrators who have also been trying their best to get one.  Although many want the pin, the Southern Union Conference is only giving the pin to Pathfinders from the Southern Union — who earn it.
The pin is creating a wider awareness of the union paper among youth. Tiezza Saint-Hailaire said, "Before this pin I hadn't heard of Southern Tidings."
To earn a pin campers must meet a few requirements. Campers ages 10-18 are asked to write a story (100+ words) about their experience at the Chosen International Pathfinder Camporee 2019. When they complete the story and submit a photo they receive the pin. Their story is then posted on the SouthernTidings.com website. The best stories posted there will be considered for publication in the Chosen Souvenir edition of the Southern Tidings coming out in October.
Each day campers have come in to the Southern Union Headquarters Tent to tell their Chosen Pathfinder Camporee experience. Stories about how God helped with broken down buses to finding a key to an ancient padlock all reminding us of God's faithfulness have been written. When a camper receives their pin they go and tell their friends about the experience and recruit others to participate.
"The idea to create a Southern Tidings pin was born while the Southern Union Communication Department was on a staff field trip to the Coca-Cola museum," said Pastor Steven Norman, III, Southern Union Communication director and Southern Tidings editor. "The purpose of the trip was to learn how Coca-Cola created such a successful multi-generational marketing strategy. After the museum tour we sat down and a 'brain tornado.'"
"The pin was produced to serve two purposes. The first was "to connect young readers to the Southern Union," explained Norman. "The second and the most important was to inspire the next generation to become journalists for the cause of Christ."
Did you write your story? Come by and pick up your pin before they are all gone.
— Joseph Hyde is a student at Southern Adventist University in Collegedale, Tennessee.
kmaran
Fri, 08/16/2019 - 16:53
Pathfinder Cooks Compete in Top Club Chef at the 2019 Chosen International Pathfinder Camporee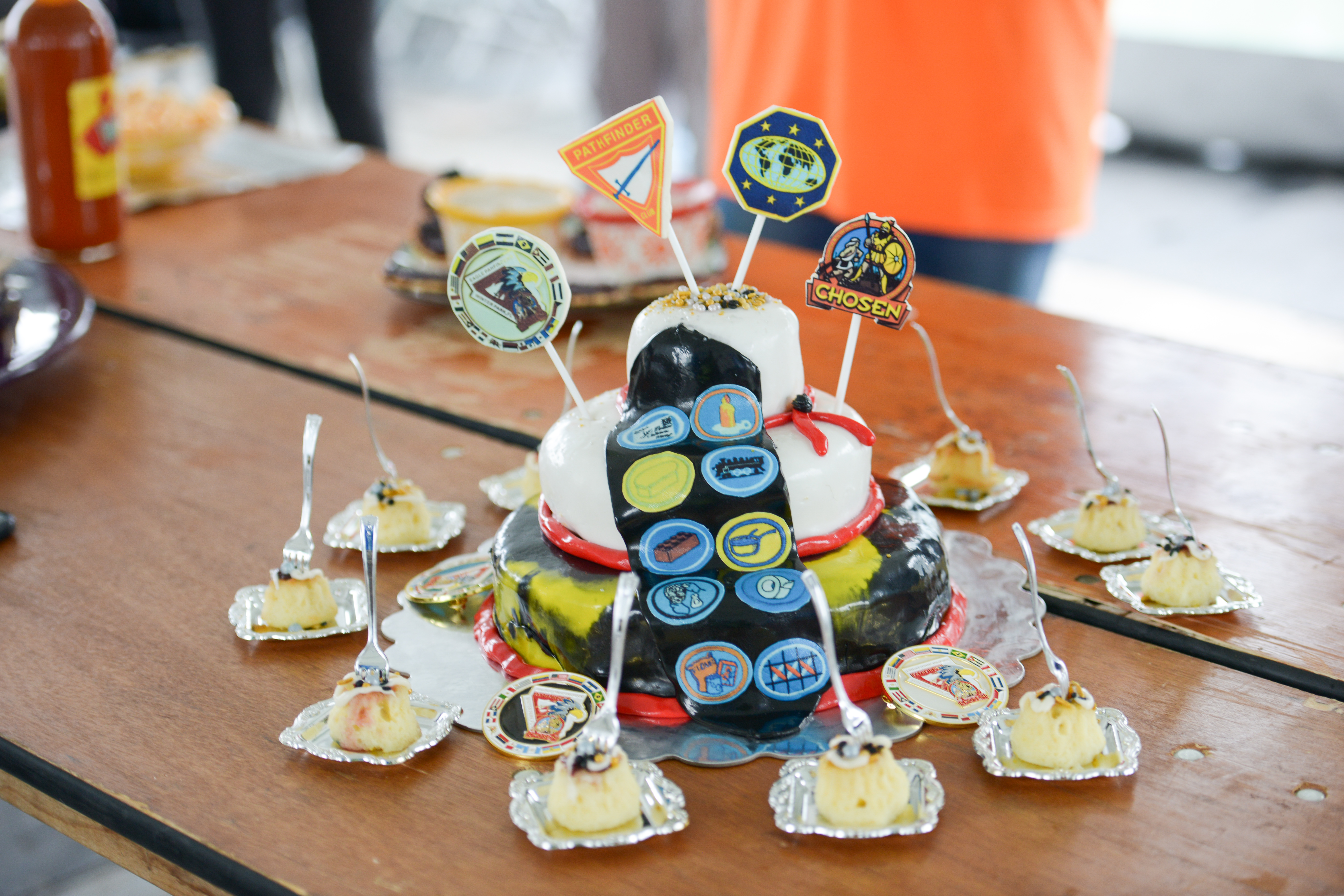 Pathfinder Club chefs had the opportunity to flex their culinary muscles at the 2019 Chosen International Pathfinder Camporee Top Club Chef activity during three rounds held each morning, Aug. 14-16, near Hangar D of the Experimental Aviation Association grounds. During the daily critique period, tables showcased beautifully plated club cuisine. Chefs were teamed up and awarded team and personal points.
Those who are the primary cooks for their clubs were nominated, or appointed, to represent their conferences in the non-elimination competition. Each chef created three different plant-based dishes based on a biblical inspiration. Each day, a special ingredient or theme was required in the dish presented for judging. The special ingredients/themes were corn, chips, and club theme — what best embodies the spirit of the chef's Pathfinder club. The dishes, cooked and prepared at the club camporee kitchens, were peer reviewed based on the following criteria: taste, presentation, creativity, and use of the special item.
Hulando Shaw, the Top Club Chef coordinator, said that what people eat and how it's prepared goes back to humanity's beginnings. And it is important for Pathfinder Clubs to learn about healthful eating and food preparation. "The Genesis 1 diet gives you all green herbs, not meat," Shaw said. "When we get to the point in which we can get our young people activated, get our young people interested in cooking, then what will happen is that young people will be learning to ultimately make their own food."
Chef and owner of Real Veggie Cafe in Island Park, Long Island, New York, Shaw is excited about the future possibilities of this new Pathfinder activity making its debut at the Oshkosh camporee. He'd like to see the competition take hold at union camporees across the North American Division — and eventually around the church's world divisions. Once the principles that hold, "then we can craft our health message into the cooking competition; and teach young people how to cook healthfully. When people actually start cooking their own food, they will start eating much healthier."
And while there is no honor offered for the Top Club Chef activity, that didn't stop at least one Pathfinder from participating. Chris Dietel, an 11thgrader from Rochester, Minnesota, and Voyager in the Rochester Rangers Pathfinder Club, enjoys cooking — and learning by watching chef Gordon Ramsey. He said his club urged him to register. "My club likes my cooking and they said that I should do the Top Club Chef tournament, so I signed up. [The organizers] have to select you to represent your union. I got chosen."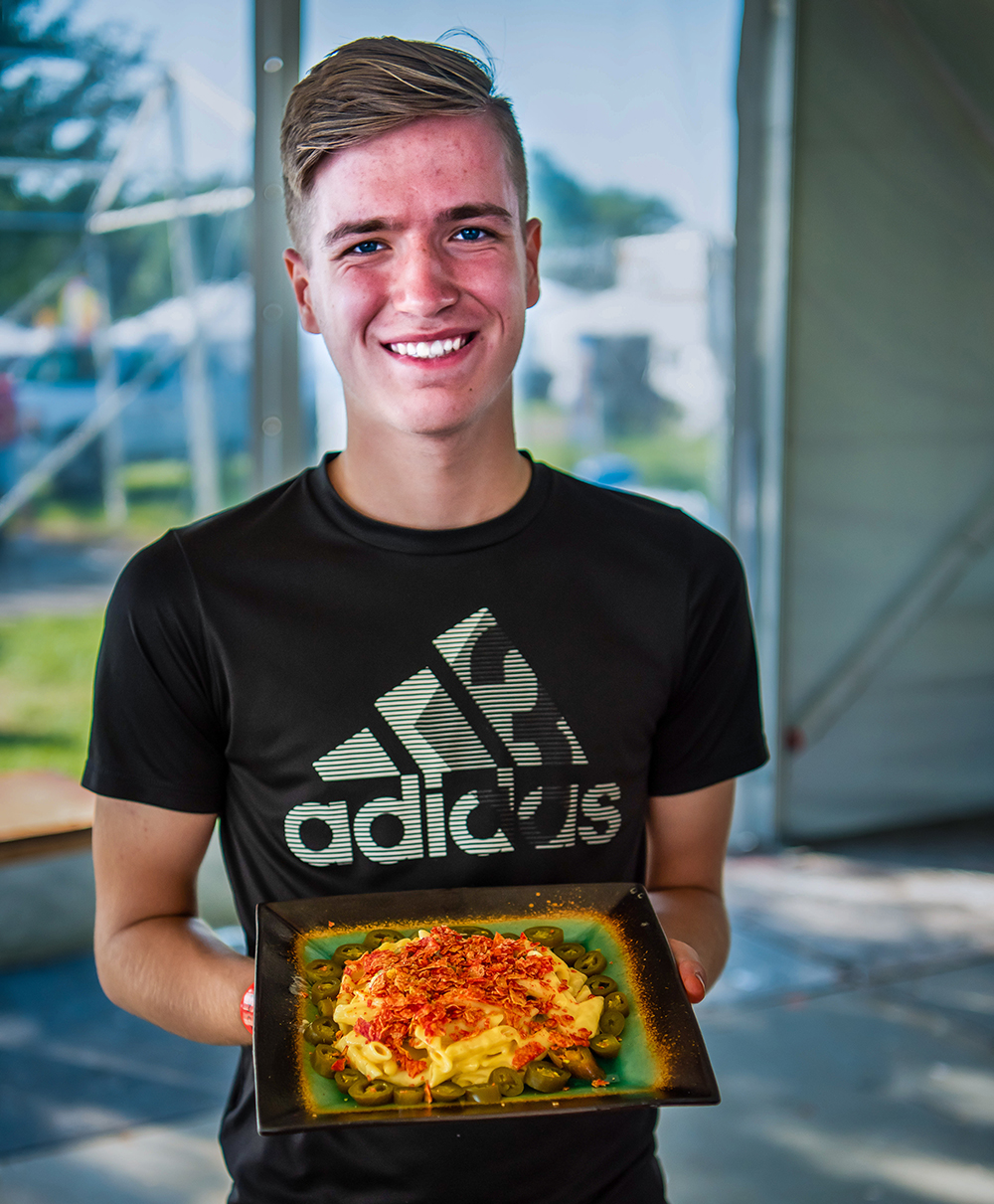 Dietel was the youngest chef in the competition, the rest of the participants were adults who cook for their clubs. He said it made the competition harder, but in a good way. "This is going to help my culinary abilities," said Dietel, who received a silver finish with his group after day one.
The aspiring chef learned from more seasoned cooks such as Lyn Fuentes from the Winter Park Spanish Club from the Florida Conference. Her signature dish in the final round, "Showing the Pathfinder Spirit," included large cake filled with jams and represented Pathfinders while the smaller cakes represented the club members and were filled with various jams (mango pineapple, berries and concord grapes). The final touches included molded white chocolate with edible rice paper.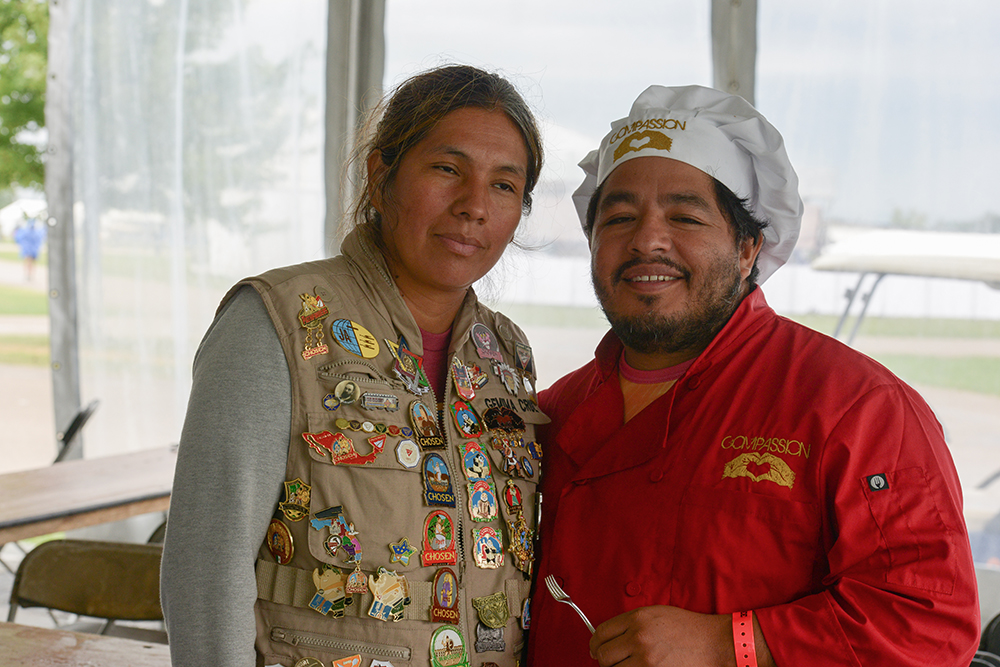 Susan Maxted from the College Place Village Seventh-day Adventist Church in Washington, prepared her signature "Gluten Steak with a side of wild rice and Walla Walla Sweet Onion." Maxted shared that the dish was inspired by a favorite dish that she makes for her children and their club name, Wailatpu, which means "land of the wild grass."
Chef Shaw, who serves traditional Caribbean style vegancuisine at his restaurant, was pleased with the dishes presented. "I've been a Pathfinder for pretty much all my life and this is my second Oshkosh," he said. "And when the Top Chef information went out, I inquired about it. Based upon my resume, they asked if I would be the coordinator [at the camporee]. I thought about it, I prayed about it, and said, 'Let's go for it.'"
At the end of the competition, the points were tallied and all participants were awarded first place.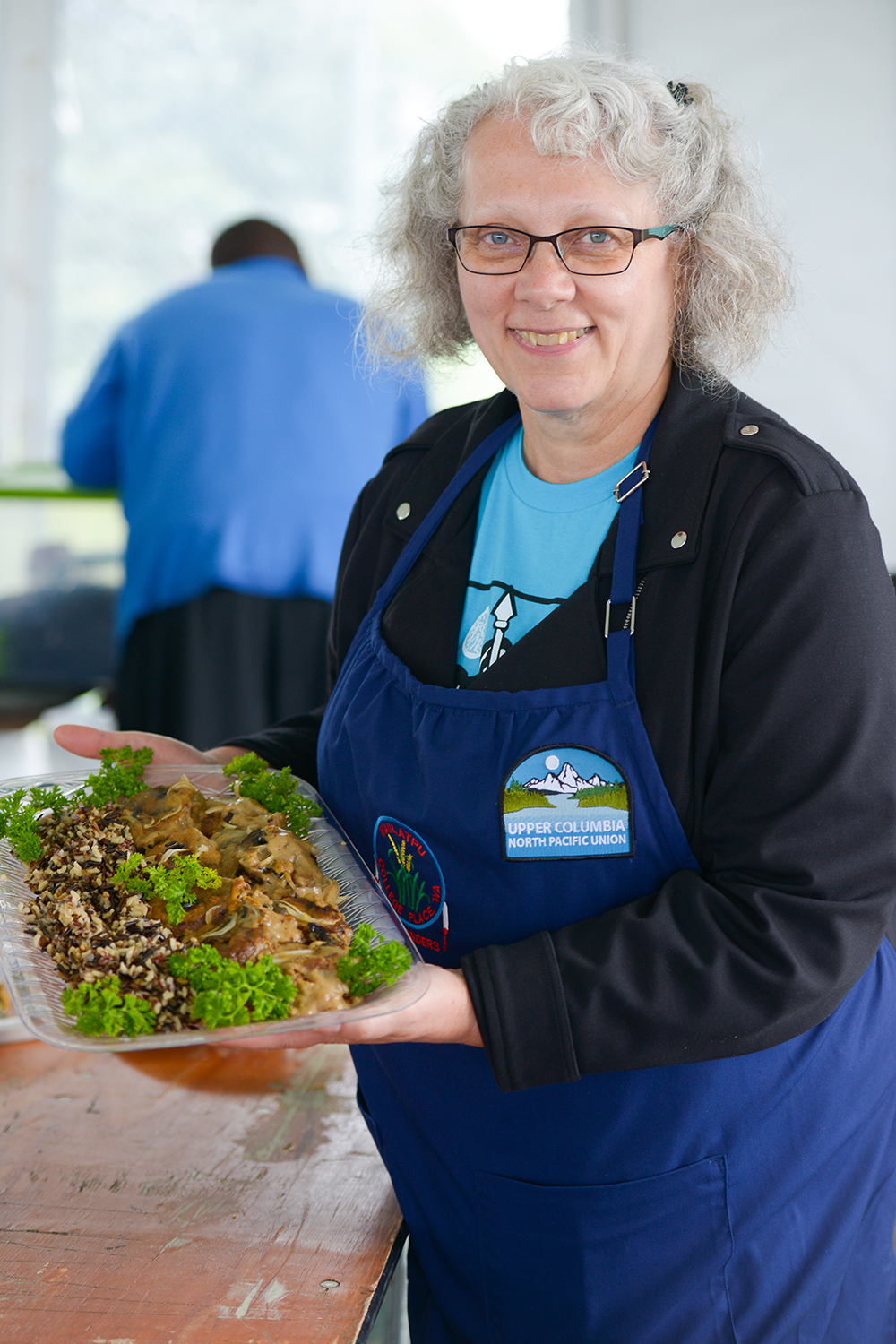 kmaran
Fri, 08/16/2019 - 16:05
---