Adventist Review News
---
North American Division News
A New Commandment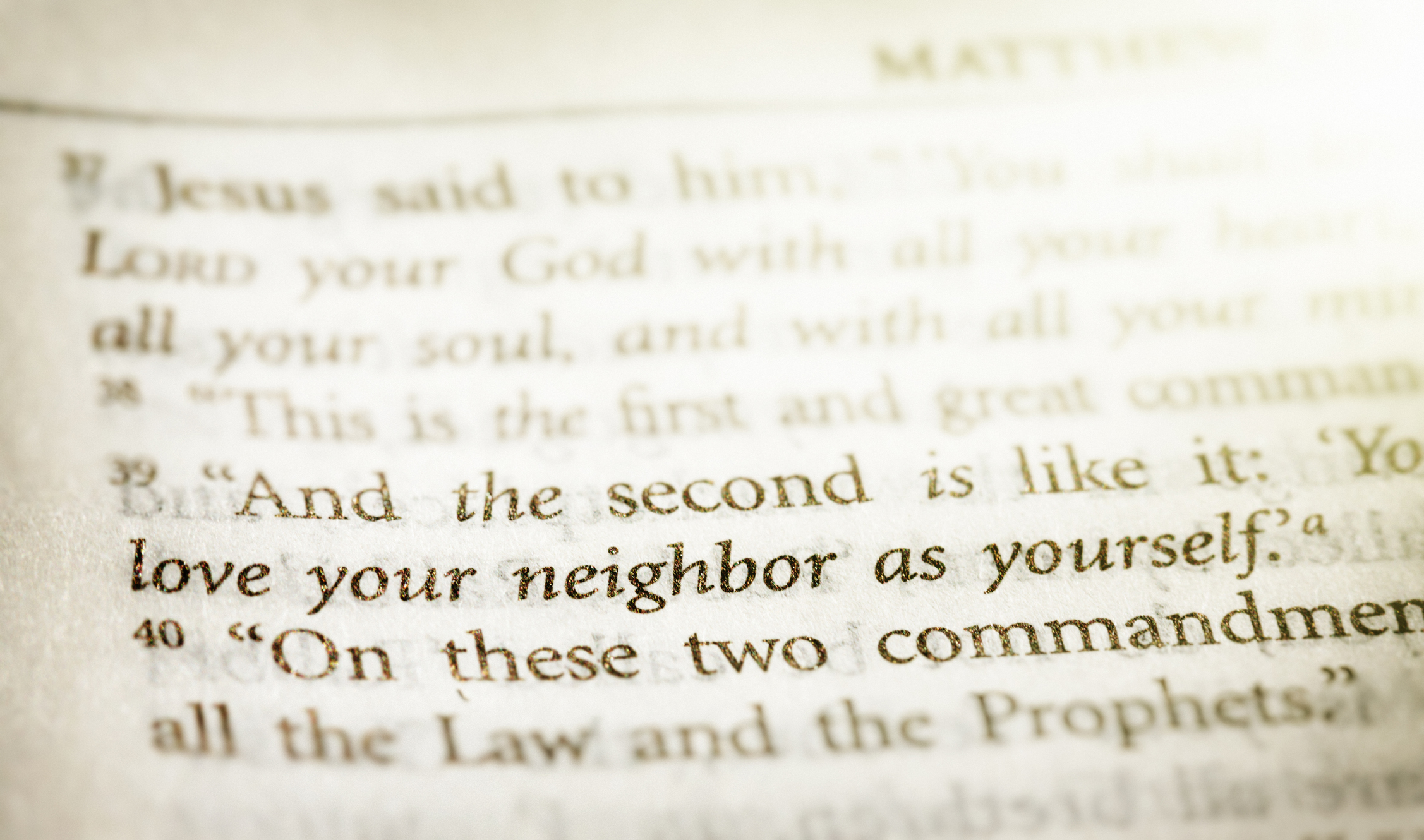 Jesus is our perfect example of the way to live in this world. While on earth, He gave His disciples a "new" commandment, that is, "love one another" just as He loved them (John 13:34, ESV). He faithfully lived out this commandment in His life and ministry. He loved people fearlessly, unconditionally, and extravagantly. 
Boundless
Jesus was infamously indiscriminate in displaying His love. No exception was ever practiced. Jesus greeted all people "as children of God" (Ellen G. White, Christ's Object Lessons, p. 186). Refusing to give in to fear, rejection, and hatred, He crossed all kinds of boundaries—political, religious, economic, ethnic, and gender — and willingly made Himself available to everyone.
Why boundless? We all fall short of God's will and glory (Rom. 3:23). Anything that falls short of His perfection is sin. And all sins are equal to God, in that they separate us from Him. Paul's declaration in Romans 6:23, "for the wages of sin is death," applies to all sins. Human beings may rate sins, but Jesus does not. For Him our sins, whether big or small, place us in a place diametrically opposed to God and His grace. 
Compassionate 
In His display of love, He showed genuine compassion ("moved with compassion," Matt 9:36) for all people, regardless of their social status. This expression literally means "moved in the bowel." He felt a visceral and gut-wrenching compassion toward His children, which compelled him to take action — healing, feeding, and delivering. These life changing actions demonstrated the heart and mind of God. 
With Respect
Loving one another means that we treat people with respect and dignity, as Jesus did, even if they are "different" from us. The inhumanity we display toward other members of the family of God is "our greatest sin" (White, A Ministry of Healing, p. 163).
To a woman who had been severely bent over for 18 years, He declared her instantaneous freedom (Luke 13:12), and conferred on her a status equal to her male counterparts when He called her a "daughter of Abraham" (verse 16).  On another occasion Jesus didn't rebuke the bleeding woman for making him "unclean" according to the Levitical law. Rather He complemented her faith (Luke 8:48). 
Jesus also treated those who didn't think the way He did with respect, ultimately transforming some of their lives. As the Rich Ruler chose money over Him, Jesus still "looked at him and loved him" (Mark 10:21).  Jesus willingly participated in a debate with Nicodemus, who questioned His teaching, eventually leading him to become one of His followers (White, The Desire of Ages, p. 177). In fact, the most beloved passage in the Bible (John 3:16) was uttered in His engagement with Nicodemus. 
Through such genuine acts of love and kindness, walls of hostility were destroyed. A bridge was built over the deep chasm of sin that separated humans from God. God's family was also reclaimed and reborn. Humanity was restored. The dignity of all persons made in the image of God was upheld. Humanity now has direct access to God and His amazing grace.  
Jesus invites us today to live a life that faithfully points to and mirrors Him. Good news for the world and an opportunity for us as a church to reflect the character of His kingdom.
kmaran
Fri, 12/06/2019 - 09:25
Legacy, Leadership, and New Initiatives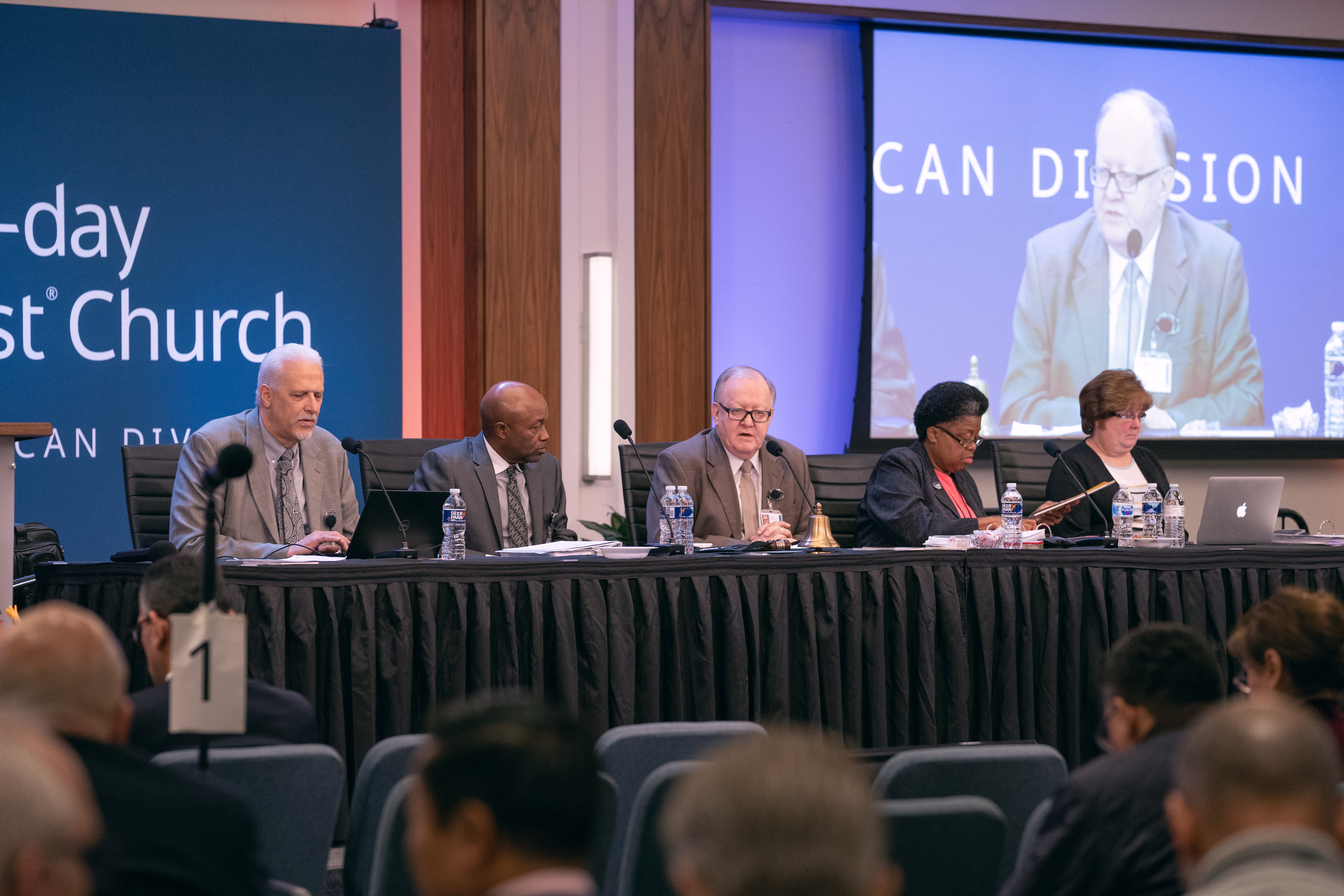 The final morning business session of the North American Division 2019 Year-end Meeting (YEM) primarily focused on pension benefits provided to employees by the represented entities of the territory, including the division and all its unions, conferences, schools, mission fields and independent ministries.
Currently, church employees who are vested into the defined contribution retirement plan also receive the "SHARP" health care assistance program. The plan gives retirees a cash benefit that has been placed in a protected health reimbursement account to assist in the selection of Medicare supplement plans. The amount given is related to years of qualified service to the Adventist Church.
"People keep coming on to the plan, and there is no funding mechanism for that plan," said Raymond Jimenez, III, plan administrator of Adventist Retirement on Nov. 6, 2019, to the NAD executive committee as he shared the state of financial stability for the retirement plan. According to Jimenez, the church has $350 million in unfunded liability for its pension plan.
Jimenez presented a recommendation that was formed after meeting with consultants and actuaries to help mitigate the need:
Employees who were hired before the year 2000 — when the church was providing a defined benefit plan — will continue to accrue service credit toward maximum benefit.
Employees hired post 2000 — when the church switched to a defined contribution plan – will not accrue service credit after January 1, 2020.
The plan will not be offered to employees hired after 2019.
There will be no joint and survivor benefits for employees who have not vested before January 2020.
Additional employers will not be admitted to the plan post 2019.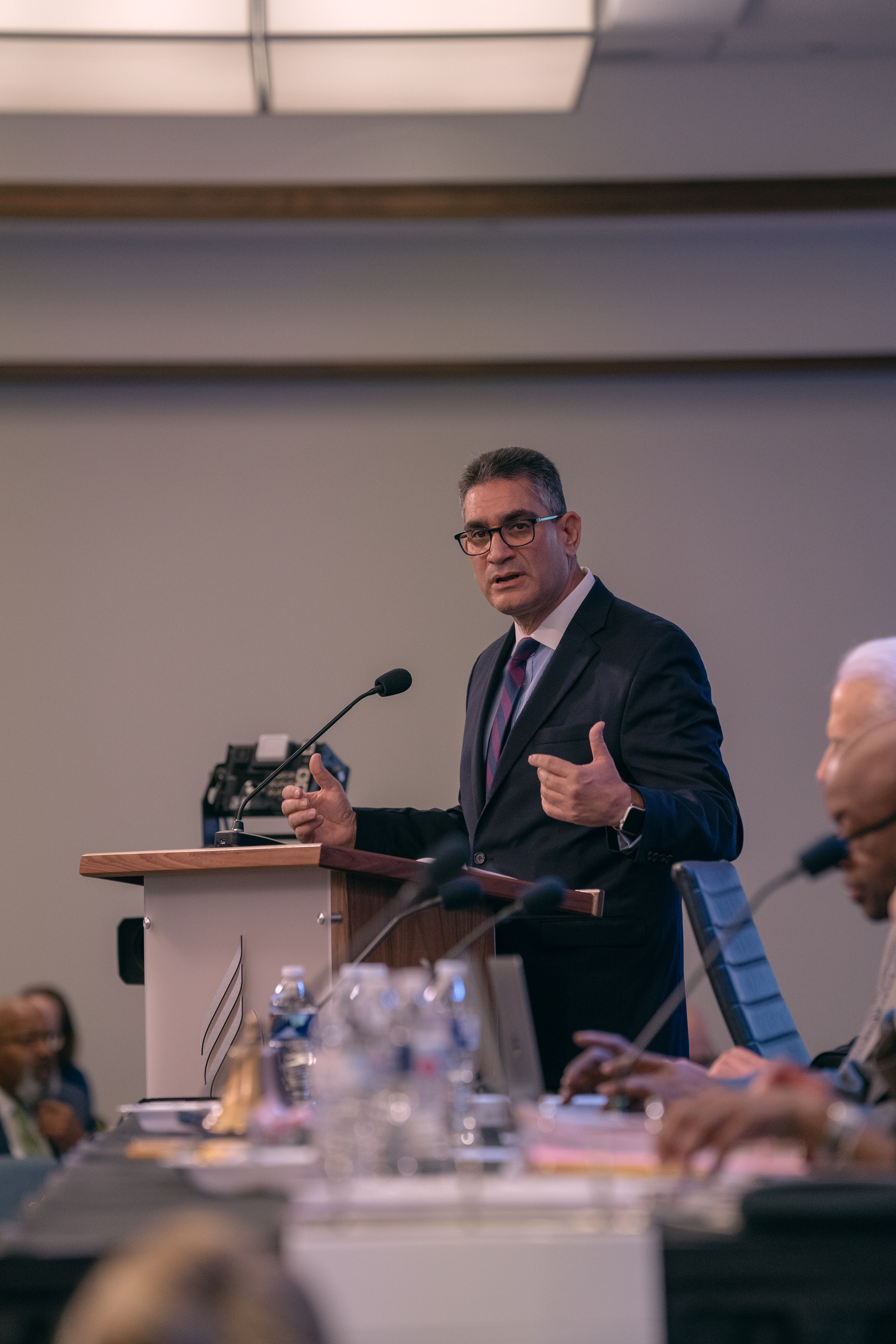 "There's a legacy that will be left with this decision that's made today. We will have to live with the legacy of that decision. Are we ready to do that," Jimenez asked the delegates. "This is not the NAD plan; this is your plan for your employees."
After more than an hour of discussion, a motion was presented to accept the recommendation, then an amendment was accepted to change the transition day from January 1 to July 1 to account for educator contracts, which are set from July 1 - June 30.
The motion with the amendment passed: 164-Yes, 29-No, 2-Abstain.
Volunteer Screenings
The day continued with numerous reports from various entities and ministries. Sterling Volunteers, the criminal background screening service and child protection training program used by Seventh-day Adventist organizations within the North American Division, reported its screening statistics for the 2019 Oshkosh International Pathfinder Camporee. Sterling Volunteers processed 7,835 applicants, 78 percent of the screenings were shared with the corresponding conferences, unions, or organizations that made the initial request. Nearly 200 international background checks were also performed by the service.
Leadership Development
Alvin Kibble, NAD vice president for Big Data + Social Media, Public Affairs and Religious Liberty, Literature Ministries, and Executive Coaching, Training, and Development, teamed up with Adam Fenner, director of the Adventist Learning Community, to deliver a report on leadership development for the Adventist Church.
Kibble announced that the Office of Big Data + Social Media and the Office of Strategic Planning, Assessment, and Research partnered to develop core competencies that can be used to evaluate candidates for church leadership roles and develop a leadership profile for senior executives and executive teams at the conference, union, and division levels of the church.
After hours of research and learning, and incorporating the Korn Ferry validated leadership model that has been used by 20 million people in 25,000 companies across 110 countries, the NAD developed five core competencies and formed leadership roundtable groups that discussed the intricacies of the competencies in separate video segments available through Adventist Learning Community. The five core competencies are thought, results, people, self, and spiritual leadership.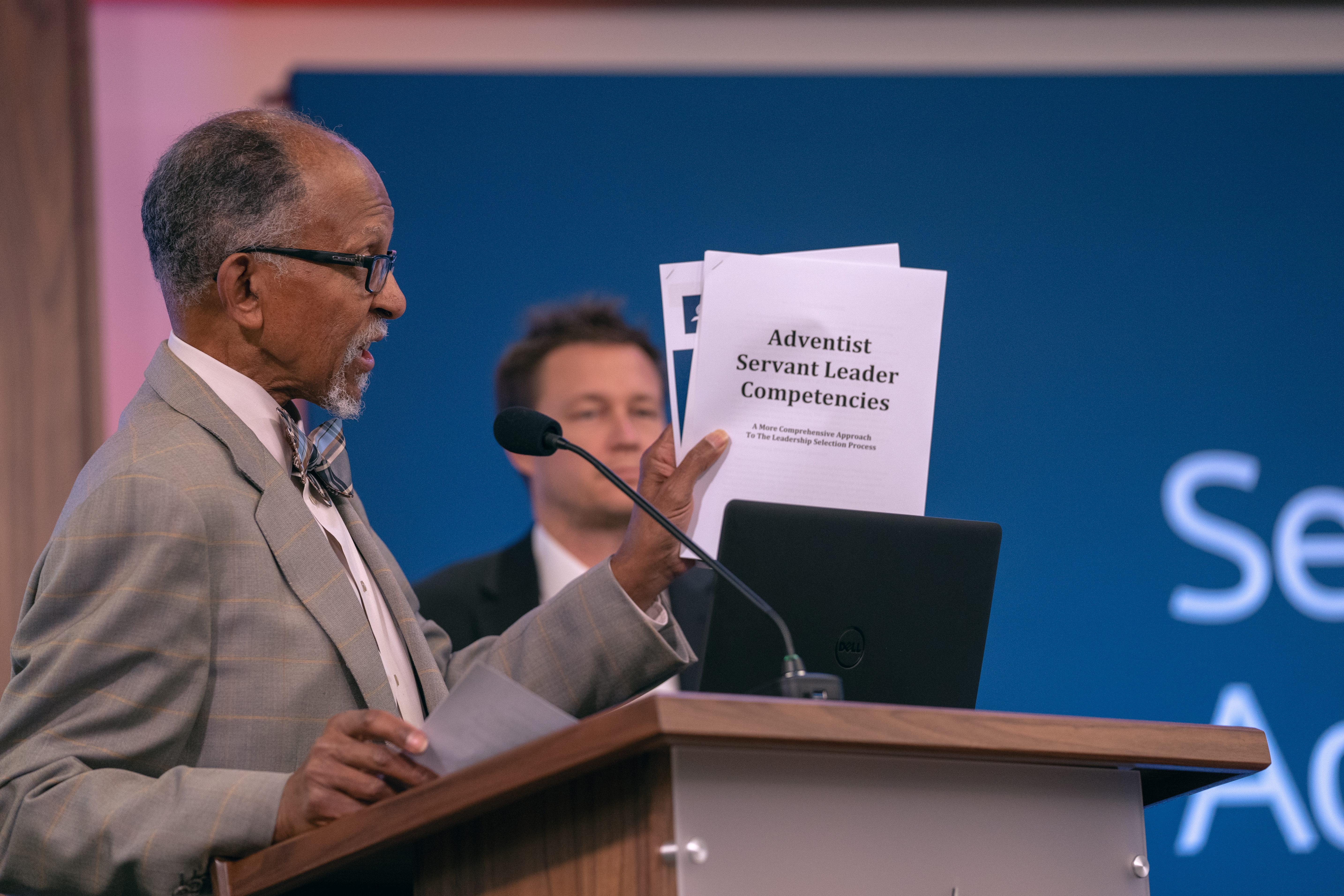 From the General Conference
John Thomas, associate secretary from the General Conference (GC), kicked off the afternoon session by reading two statements from the GC that will be presented during General Conference in Session in 2020 —  the "Statement of Confidence in the Writings of Ellen G. White," and the "Statement on the Biblical View of Unborn Life." While the latter statement makes implications about abortion, it is not a medical statement on abortion, rather a biblical understanding of the sanctity of life. A medical statement on the act of terminating pregnancies is still in the drafting-stage.
Following Thomas, Ella Simmons, a general vice president of the GC, and board member of the Adventist Development and Relief Agency (ADRA), presented a global campaign from ADRA called, "Every Child. Everywhere. In School." According to ADRA, 262 million children worldwide are not in school. Refugee children are five times more likes to be out of school than non-refugee children, and 22 million primary-aged children have never been to school. To help address this, the agency is aiming to collect 1 million signatures to petition world leaders to take action by providing quality education to children everywhere.
"ADRA wants to partner with Adventist Education in North America to allow NAD teachers to work with teachers around the world for this campaign," said Simmons.
Later in the session, Simmons briefly presented an update on the church's Nurture and Retention efforts and the Encyclopedia of Seventh-day Adventists, which is being curated by the GC Office of Archives, Statistics, and Research. She announced that the online version of the encyclopedia will be previewed during 2020 GC Session.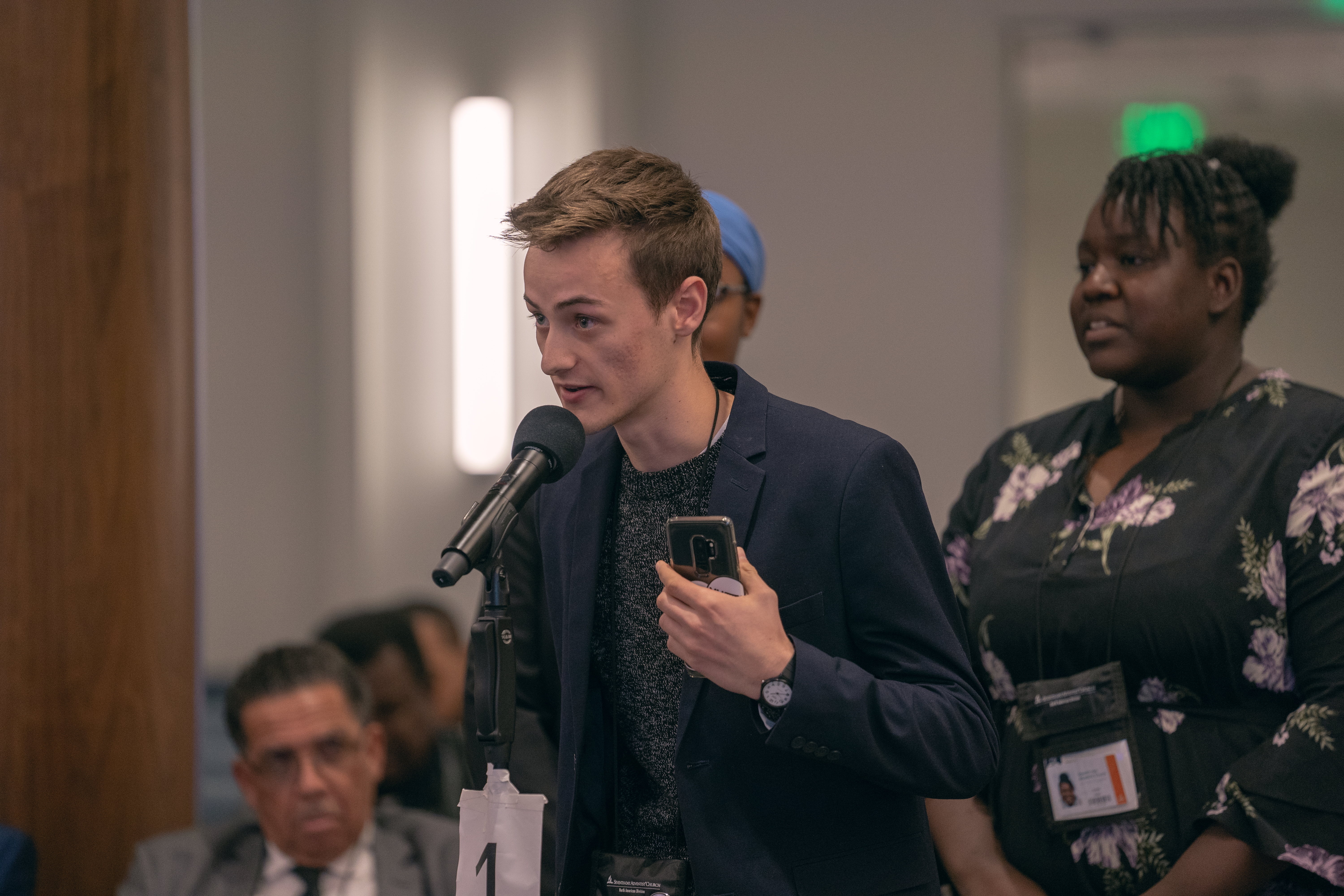 Young Adult Representation
During the afternoon session, student representatives of the Adventist Intercollegiate Association presented a motion to recommend that unions and conferences have at least two young adults on their executive committees. The students hope that if unions and conference accept the recommendation, they would also outline the requirement in their bylaws. The motion was carried.
Women in Pastoral Ministry
One of the major initiatives of the division's current quinquennium is to employ more women into pastoral roles. Carolyn Forrest, associate secretary; and director of Human Relations, Interdivision/International Service Employee Resources, and Archives and Statistics; acknowledged the progress that has been made over the past four years. In 2010 there were 102 women ministers employed by the Adventist Church. Today, there are 178.
"Thank you for placing women in pastoral ministries and leadership roles. The number is almost doubled, but we've got more work to do," said Forrest.
Paul Anderson, director/endorser of Adventist Chaplaincy Ministries added that since chaplains are pastors wherever they serve, whether it's in the military or a hospital, the 115 female chaplains that are endorsed by the division should also be counted toward the total number of women in ministry.
Brenda Billingy, associate director of the NAD Ministerial Association, announced that the women pastors' luncheon that will take place at the CALLED Pastors' Family Convention in June 2020 will be named in the honor of Daniel R. Jackson, president of the North American Division, as a way to acknowledge his support of women in ministry.
Revisiting the 2014 Dulles Report
In between agenda items, Keith Bowman, an NAD executive committee member from the Adventist Learning Committee, referenced a historic meeting that took place in May 2014 near Dulles Airport outside Washington, D.C., that focused on the church's structure, organization, and mission as it relates to church finances, governance, and education.
Bowman made a motion for the committee to revisit the information presented at the 2014 Dulles meeting during the 2020 Year-end Meeting. The delegates voted to have the report placed on next year's agenda.
Department Reports
Year overview reports were delivered from Public Affairs and Religious Liberty, Message Magazine, Social Media + Big Data, and Stewardship Ministries. With the November 1 election of Bonita Shields to serve the NAD as vice president of Ministries, Shields delivered her final report as director of NAD Stewardship.
"It has been a joy. I pray my presence has benefitted the department the way my time in the department has benefitted me," said Shields.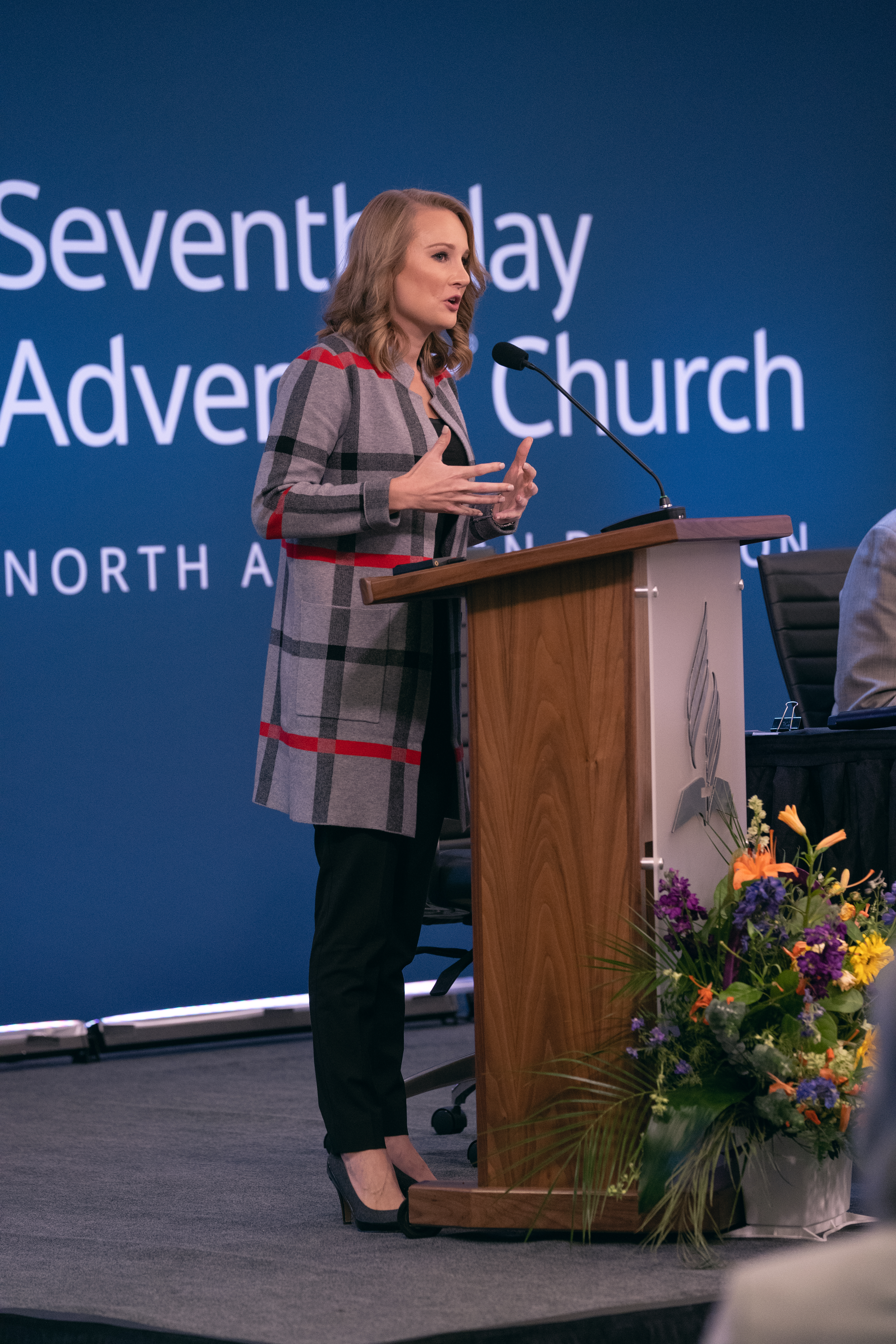 Women's Ministries introduced its film "Church, Too," which shares stories of women who have survived various forms of abuse that took place within the Adventist Church. Erica Jones, assistant director of Women's Ministries,  also discussed this year's "enditnow" NAD Summit on Abuse, which took place at the Seventh-day Adventist Theological Seminary at Andrews University. This year's focus was on helping current and future pastors recognize and stop abuse. In response to Jones' report, Ivan Williams, director of the NAD Ministerial Association, petitioned delegates to place next year's summit on their pastors' calendars.
Health Ministries announced its "Adventist HealthyYOU" initiative that will launch next year. The program aims to use the Adventist health message to create content for the growing demographic of health-conscious Millennials.
Delegates also reviewed and voted on routine agenda items – financial items included church resource development, building funds for Hispanic congregations, and allocations for Oakwood University; consent items included setting offering days and authorized meetings; and policy items included internship plans, and retention and safeguarding of records.
Final Items
In his final remarks of the 2019 YEM, G. Alexander Bryant, NAD executive secretary, presented a motion to recommend that unions allocate space in their delegate pool for GC Session that will allow conference presidents within their territories to serve as delegates. This was recommended in response to a recent action taken at the General Conference Annual Council that took away automatic delegate privileges from conference presidents.
Lastly, he encouraged delegates to review the electronic files of amendments to the church manual and GC bylaws, which can only be changed during GC Session.
mylonmedley
Thu, 12/05/2019 - 15:23
Free Clinic in Arizona Addresses Chronic Need For Oral Health Care in Native Communities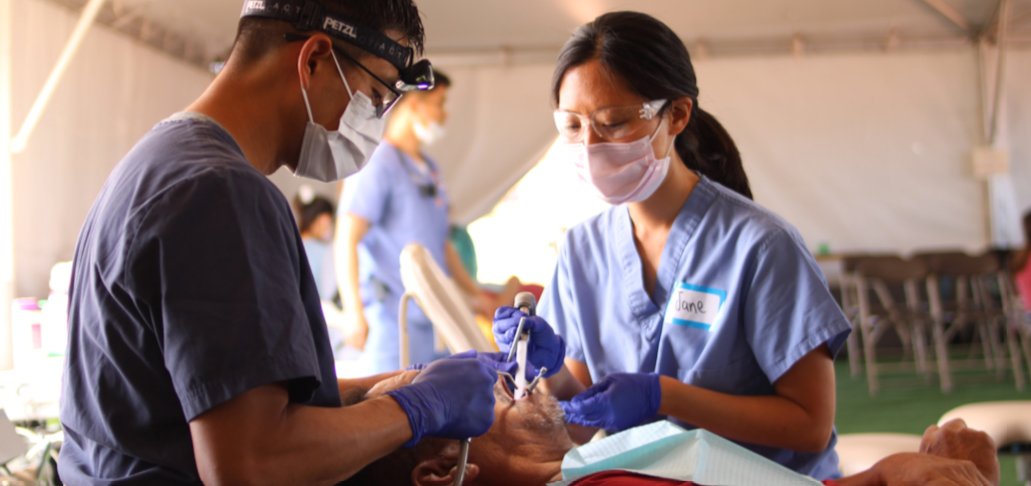 God's hand was at work in Page, Arizona, through a group of dedicated volunteers who facilitated 300 procedures during a free dental clinic hosted at the Page All Nations Seventh-day Adventist Church on September 23-25. During the three-day clinic, approximately $200,000 of dental procedures and $30,000 dermatology services were given at no cost to more than 140 people.
The volunteer team included seven dentists, one dental hygienist, nine dental assistants, a board-certified dermatologist, a family practice physician, and two massage therapists. Fifty-five additional volunteers managed registration, sterilized equipment, offered counseling, and provided other related activities.
Services and procedures included teeth cleaning, check-ups, fillings, and extractions while using well-equipped dental chairs, mobile X-rays, e-imaging, and other dental-related services. The dermatologist performed skin checks and minor dermatological procedures on 40 patients, and the family practice physician provided preventive care screenings and counseling.
Of the treated patients, more than 90 percent were members of the Navajo Nation. A few Hopi and Zuni tribal members also participated as well as several non-native community members. A high percentage reported that they had diabetes, pre-diabetes, and/or heart disease, which are known risk factors linked to poor oral health.
Putting the Clinic Together
The project volunteers were provided by "F5," a unique young professional Christian group created by dentist Calvin Kim. Kim met with Nancy Crosby, director of Native American Ministries for the Pacific Union, to share the idea of holding a dental clinic. Through a series of events and much prayer, each detail fell into place.
The clinic was coordinated and organized by the Life and Health Network led by Danny Kwon, who has extensive experience operating free clinics worldwide; and Vinh Trinh, a paramedic and pre-dental student who has worked alongside Kwon with the free clinics. The dental equipment was provided by Caring Hands Worldwide, a mobile clinic non-profit from Eugene, Oregon, together with their executive director Randy Meyer. American Indian Living magazine funded the tent (under which the services were performed), portable toilets, and other miscellaneous items.
The tent was packed with patients each day, many of whom had multiple procedures done. The patients had the opportunity to meet with the pastor of Page All Nations and its Bible worker. Interest was generated for church services, and there were approximately 40 Bible study requests.
In addition, a group of licensed contractors and painters among the volunteers roofed the church's building and parsonage. They also repainted the church's exterior.
Testimonies
Many people traveled from hours away to attend the dental clinic due to scarcity of quality dental services on reservations. Although the patients seemed nervous and distrustful when they first arrived, smiles began to break out as people left the tent with their needs met.
One Navajo grandmother remarked, "This is some of the best dental care I have ever received. Not only did they do X-rays and clean my teeth, but they also filled three cavities and replaced a crown."
A young Navajo father said, "I have always been afraid of dentists. These dentists are so kind. This is the first time I have seen a dentist in five years. They filled one cavity and then showed me better ways to brush and floss to prevent future cavities."
"I felt respected. I have been embarrassed about my teeth," said a middle-aged Navajo woman. "I knew I had something wrong, I had pain. [Turns out] I had cavities in several areas of my mouth. They filled some of the cavities one day and then the rest the next day."
One woman's story highlights the multiple challenges faced by many elderly members of the Navajo Nation. They often have to wait up to two years to be seen at a dental clinic that is located off the reservation and difficult to travel to. Clinics on the reservation are often too expensive. Further, many patients at the clinic said preventative oral hygiene techniques are not explained clearly to help prevent tooth decay or extractions.
"I have three relatives in their early 50s who already have dentures, and four who have had many of their teeth pulled and will soon need dentures. I was also worried I may eventually need dentures. I have already had three teeth pulled," said Asdza.* "Thankfully my toothaches were only from cavities and were fixed today. I won't need a root canal. And the dentist showed me how to floss better so that I will never need dentures."
Extended Service
Early childhood carries, or cavities, are the most common health problem for American Indian and Alaska Native (AI/AN) preschool children, and five times more common than asthma, according to an oral health study by the Indian Health Service. The same study shows that when compared to other population groups in the United States, AI/AN preschool-children have the highest level of tooth decay. Further, children of the Navajo Nation have one of the lowest dentist-to-patient ratios in the country, according to a 2014 study by the Colorado School of Public Health.
To help address the effects of the starling statistic, Kim and another volunteer dentist went to a local elementary school on September 24 to share information about oral health and hygiene. The dentists presented to 183 second graders at Lakeview Elementary school, where its staff said it was the best oral health presentation the school has received.
--
*Asdza is a pseudonym, which was given upon request, and means "woman" in the Navajo language.
mylonmedley
Wed, 12/04/2019 - 15:25
---