Adventist Review News
---
North American Division News
La Sierra University Wind Ensemble Debuts at Carnegie Hall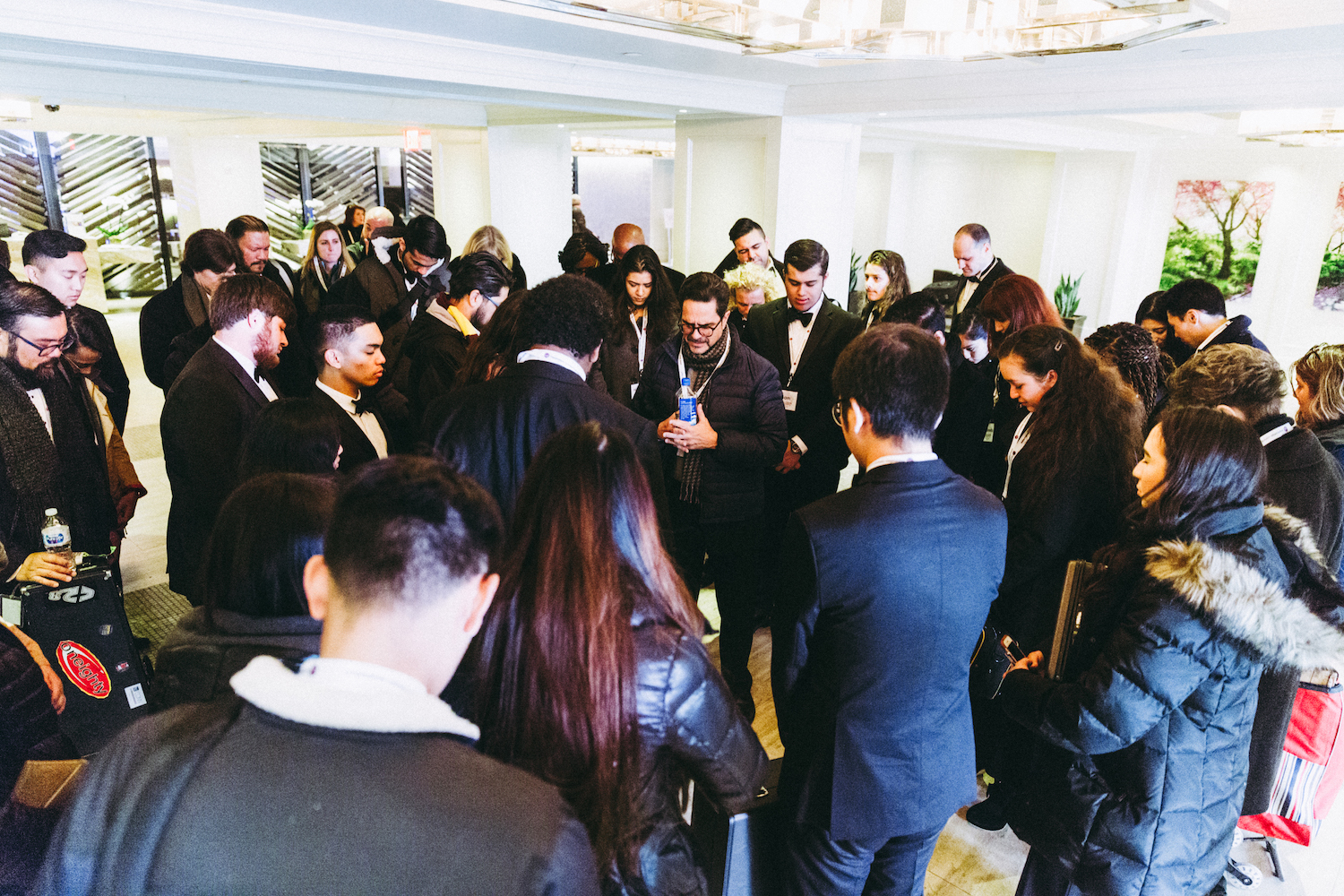 On the evening of March 15, 2018, La Sierra University's Wind Ensemble, led by conductor Giovanni Santos, walked onto one of the world's most eminent stages where many of music's greatest talents have dazzled audiences with their skill. The ensemble of more than 40 La Sierra musicians made their debut at New York City's Carnegie Hall performing published pieces as well as new works written by Santos, adjunct music professor and Emmy-winner Gary Kuo, and tenor Anthony Léon, an award-winning music major at La Sierra. The Wind Ensemble's repertoire included Santos' "Voyages," which he premiered in January with the U.S. Naval Academy Band Brass Ensemble at the John F. Kennedy Center for the Performing Arts in Washington, D.C.
To be considered for the Carnegie Hall performance opportunity, Santos submitted audio recordings of the ensemble to international performance organizers Manhattan Concert Productions. The ensemble was accepted for the March 15 appearance in famed Isaac Stern Auditorium as well as McMurry University Chanters and Wind Ensemble from Abilene, Texas, and the Scarsdale High School Wind Ensemble from New York.
Carnegie Hall, a National Historic Landmark, opened in the spring of 1891 through the backing of wealthy industrialist Andrew Carnegie. Famed composer and conductor Pyotr Ilyich Tchaikovsky appeared for the hall's opening night performances, setting the stage for a litany of eminent musicians from across various musical genre who have since performed to scores of fans gathered in the six-story, Italian Renaissance-style structure. These have included world-renowned composers Antonín Dvorák and Gustav Holtz, famed pianists such as Vladimir Horowitz, eminent violinists such as Isaac Stern for which the main stage is named, vocal sensations Placido Domingo and Marian Anderson and numerous others. Over the years, the hall broadened its offerings to include jazz, folk and pop stars. United States presidents and other world leaders have delivered talks on its stages.
"The greatest thrill for me was not the fact that I was on stage, but that I had the opportunity to share a very special moment with my students," Santos said. "Seeing them succeed made me quite happy. Our students were fantastic and represented our university with distinction and pride." The experience made a significant impact on La Sierra's student musicians.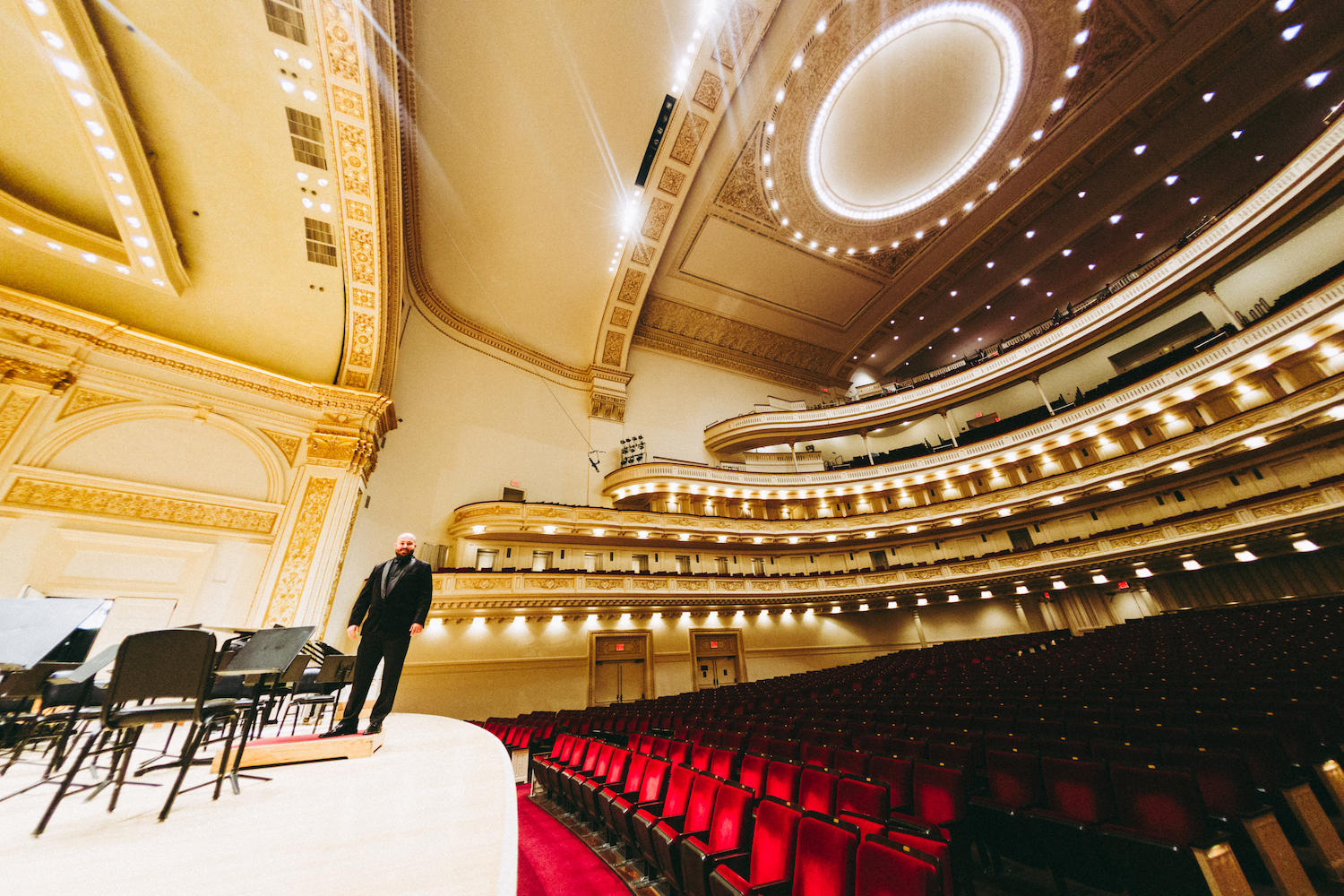 "It was overwhelming," said Sam Salazar, a tuba performance certificate student from the University of Montemorelos, a Seventh-day Adventist school in Mexico. "You get there and you don't believe it's such a beautiful hall. There's so much history embedded [there]. It was a lot of practice and a lot of hard work" to be able to perform at Carnegie, he said.
Isabel Serrano, a freshman music major and flutist who arrived at La Sierra from Loma Linda Academy described the experience of walking onto the Carnegie Hall stage as "surreal and inspiring. It made me want to come back as a [professional] musician," she said. "It was such a blessing to be there."
"Carnegie Hall was an absolutely amazing experience," said saxophonist and senior healthcare management, pre-med major Jonathan Thomas who also arrived at La Sierra from Loma Linda Academy. "As a non-music major I never thought I would be able to play on the stage of Carnegie Hall. I am so thankful for the opportunity that the La Sierra University music department gave me and the ensemble to play in such a prestigious venue." A contingent of La Sierra University faculty, staff and alums also attended the Wind Ensemble's Carnegie performance including university President Randal Wisbey and his wife, Deanna Wisbey. "It was a wonderful success for the La Sierra Wind Ensemble and for our university's learning community," said Randal Wisbey. "When Professor Santos raised his baton and the first notes rang out on that historic stage that has been witness to some of the world's finest musicians, it was truly a beautiful moment."
David Kendall, music department chair and director of music history and research at La Sierra played trombone with the ensemble. He described the experience as "breathtaking." He said, "Walking the halls behind the stage and observing the portraits of the incredible musicians who conducted and performed there was very humbling for us. Walking in the footsteps of these giants of classical and popular music was a great learning opportunity for the students and professors alike."
kmaran
Thu, 05/17/2018 - 20:46
Andrews University Student Awarded Barry Goldwater Scholarship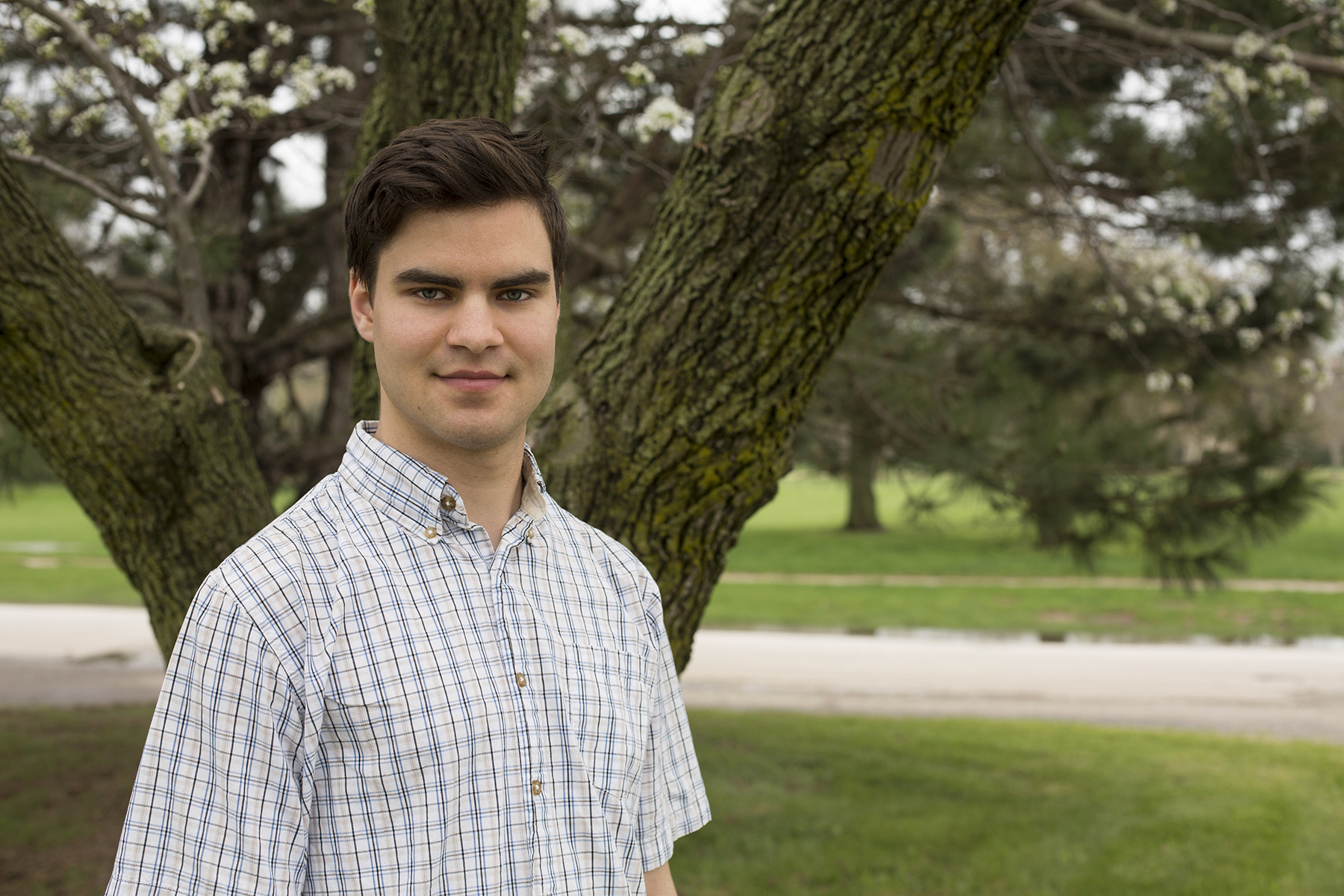 On Friday, March 30, 2018, Mykhaylo M. Malakhov, a sophomore mathematics major and J.N. Andrews Honors Scholar at Andrews University, was awarded the Barry Goldwater Scholarship, the most prestigious national award for undergraduates who intend to pursue careers in the natural sciences, mathematics and engineering.
Established by Congress in 1986 in honor of Senator Barry Goldwater, this scholarship is awarded yearly to the top STEM (science, technology, engineering and mathematics) majors who display intellectual curiosity, a strong commitment to research and potential to make significant future contributions to their respective fields. Consequently, Goldwater Scholars are known for having very impressive academic qualifications that have garnered the attention of prestigious post-graduate fellowship programs. To be considered, candidates must be nominated by their university and fill out an extensive application complete with a research paper. Each university can nominate up to four students per year. Scholarship recipients are awarded $7,500 per year until they graduate to apply toward tuition, fees, books and room and board. This year, 211 scholarships were given to undergraduates across the United States from a pool of 1,280 nominated students.
Since the scholarship's inception, Andrews University has submitted a total of 49 applications and has had seven award recipients and four honorable mentions. Malakhov is the seventh recipient, with the previous scholarship going to Libby Megna (biology/math) almost a decade ago during the 2008–2009 school year.
Ryan Hayes, professor of chemistry, is the Andrews campus representative for the Goldwater scholarship. He says, "This was quite an honor to Mr. Malakhov, the Department of Mathematics, the Department of Biology and Andrews University."
Malakhov's primary research is with the Seabird Ecology Team, an interdisciplinary research group on campus consisting of mathematicians and biologists. His project focuses on investigating the effects of climate change on glaucous-winged gull populations in the Pacific Northwest which are sensitive to rising temperatures and hence considered to be sentinels of climate change. Malakhov's work includes analyzing a mathematical model (a set of equations describing a real-world system) to discover how behavioral changes in the gulls affect the long-term survival and dynamics of the population in light of increasing sea surface temperatures. He began working on this project in the summer following his freshman year when he joined the National Science Foundation-funded summer REU (research experience for undergraduates) directed by Shandelle Henson, professor of mathematics and ecology at Andrews University.
Since then, Malakhov has presented his research results at the Joint Mathematics Meetings, the largest and most prestigious annual mathematics conference worldwide; the Michigan Academy of Science, Arts, and Letters; and at several gatherings on the Andrews University campus. His goal is to continue working with the results, and he is currently writing a paper that he and Henson plan to publish in a peer-reviewed journal. This project will also become his Honors Thesis.
Henson says, "Mykhaylo Malakhov is an outstanding young mathematician who also has a heart for people and for Jesus. He is a true intellectual, with strong interests in the arts, literature, philosophy and music. I enjoy discussing Dostoyevsky, bread baking, plate tectonics, piano and hiking with him. He is the kind of person who will become extremely successful and will then invest heavily in the careers of others."
In addition to his work with the Seabird Team, Malakhov is actively involved in additional research projects, leadership positions and experiencing his greatest joy by, as he says, "sharing the beauty of mathematics and the wonder of God's creation with others." Some of his accomplishments include assisting with the start of a computer science education program at Ruth Murdoch Elementary School, organizing the first-ever Putnam Competition team and preparation course at Andrews University, and leading out in a solar energy installation project in Madagascar with Engineers Without Borders. He currently serves as the vice president of the Andrews chapter of Engineers Without Borders as well as the mathematics president of eigen*, the Andrews math/physics club.
Malakhov plans to earn a Ph.D. in mathematics and become a professor. As he wrote in his Goldwater scholarship application, his dream is to "conduct research that bridges the gap between pure and applied mathematics and engage underrepresented groups in the mathematical sciences at the university level."
— Hannah Gallant is an Andrews University student writer.
kmaran
Thu, 05/17/2018 - 20:02
Third "Is This Thing On?" Conversation with Young Adults and Adventist Church leaders in North America Held at Walla Walla University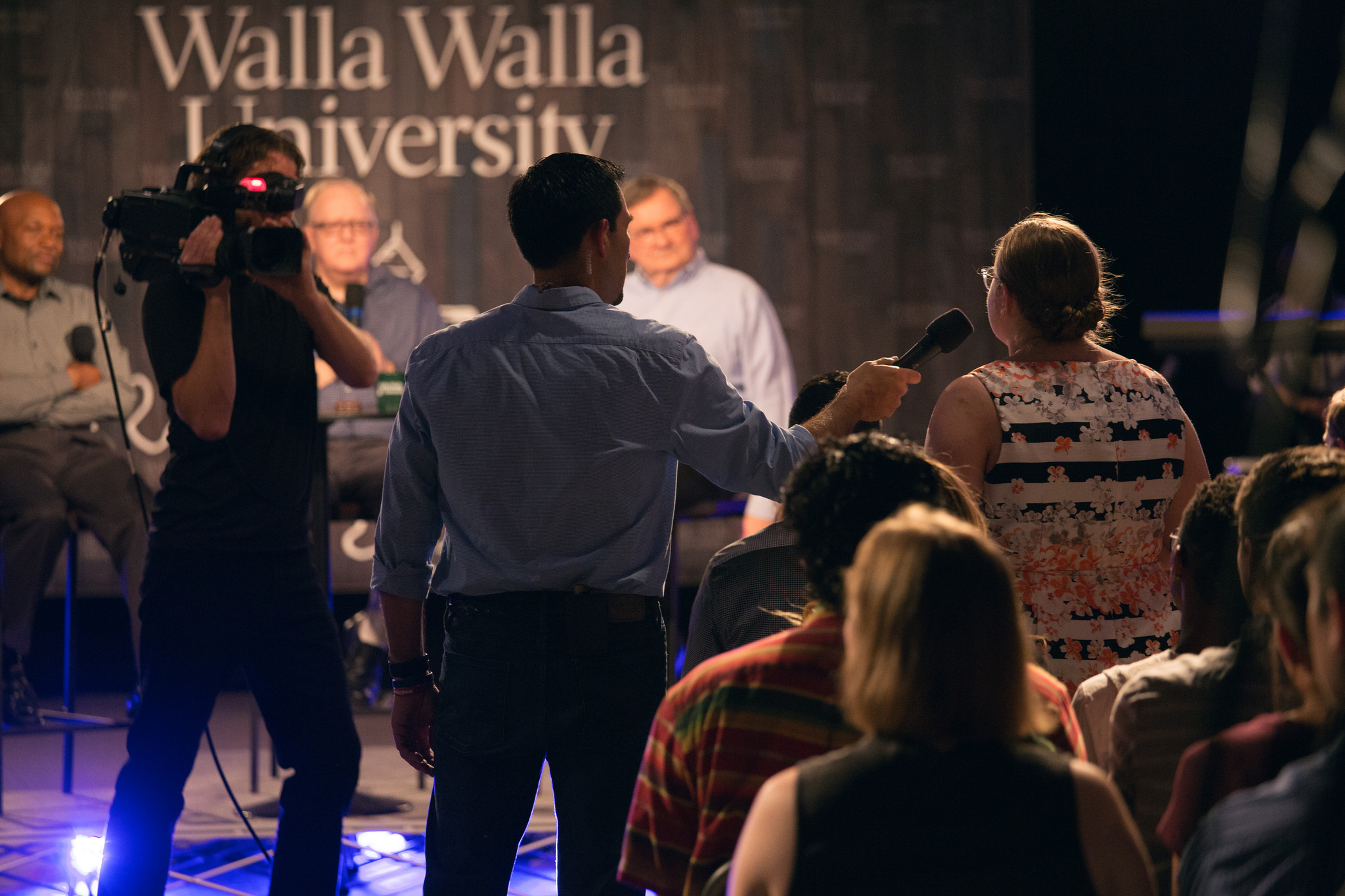 Leaders from the North American Division (NAD) of the Seventh-day Adventist Church engaged in conversation with college students on May 12, 2018, during the third "Is This Thing On?" (ITTO) video live stream. The two-hour broadcast took place on the campus of Walla Walla University (WWU), where more than 200 gathered in the Winter Educational Complex to ask questions on many topics, including term limits for church leaders, educational costs and opportunities, women's ordination, social issues, church structure and finances, and opportunities for young adults to serve in church leadership positions.
Dan Jackson, NAD president; Alex Bryant, executive secretary; and Tom Evans, treasurer, addressed each live audience question during the unscripted program, which streamed on the NAD's Facebook page. ITTO host and producer, Julio Muñoz, also took questions from Twitter, Facebook, and Instagram via student social media ambassadors who monitored and posted from various social media accounts throughout the course of the show.
In addition to Walla Walla student musicians performing for each show segment, five students were tasked with working as social media "ambassadors" during ITTO. Four of these students interacted with Muñoz periodically throughout the broadcast, sharing viewer statistics and questions that the NAD officers answered.
"This is remarkable that NAD administrators are reaching out to Adventist young adults and asking for their engagement with church leadership," commented Facebook user Phil Muthersbaugh
In another Facebook comment, viewer Joe Graffi said, "Thank you, young people/students for your willingness to stand up and ask tough questions. I am a 73-year-old who has the privilege of co-leading the youth in our Nixa, Missouri, [Seventh-day Adventist] Church. We are a multi-cultural church, nearly two-thirds of our congregation is Russian, and we all love and support each other and we are strong in the Lord because of our love for one another."
On Social Media
Shortly after the event aired, Facebook reports indicated that the video broadcast received 8,000 views, 107 shares, and about 1,115 reactions and posted comments, which included almost 400 questions and statements regarding the conversation. More than 66,300 Twitter accounts were reached with 1,935,193 impressions.
The NAD Office of Communication created a Snapchat geo-filter for use on the Walla Walla campus for both the day before and the event day. More than 2,100 views, and 75 uses were recorded after the event.
"We are connecting with young adults on social media," said Julio Muñoz, ITTO host and producer. "As we look through the data it is apparent that engagement, even during a time in the year when most of our NAD college students are not in school, was high. And the dialogue online reflected the show."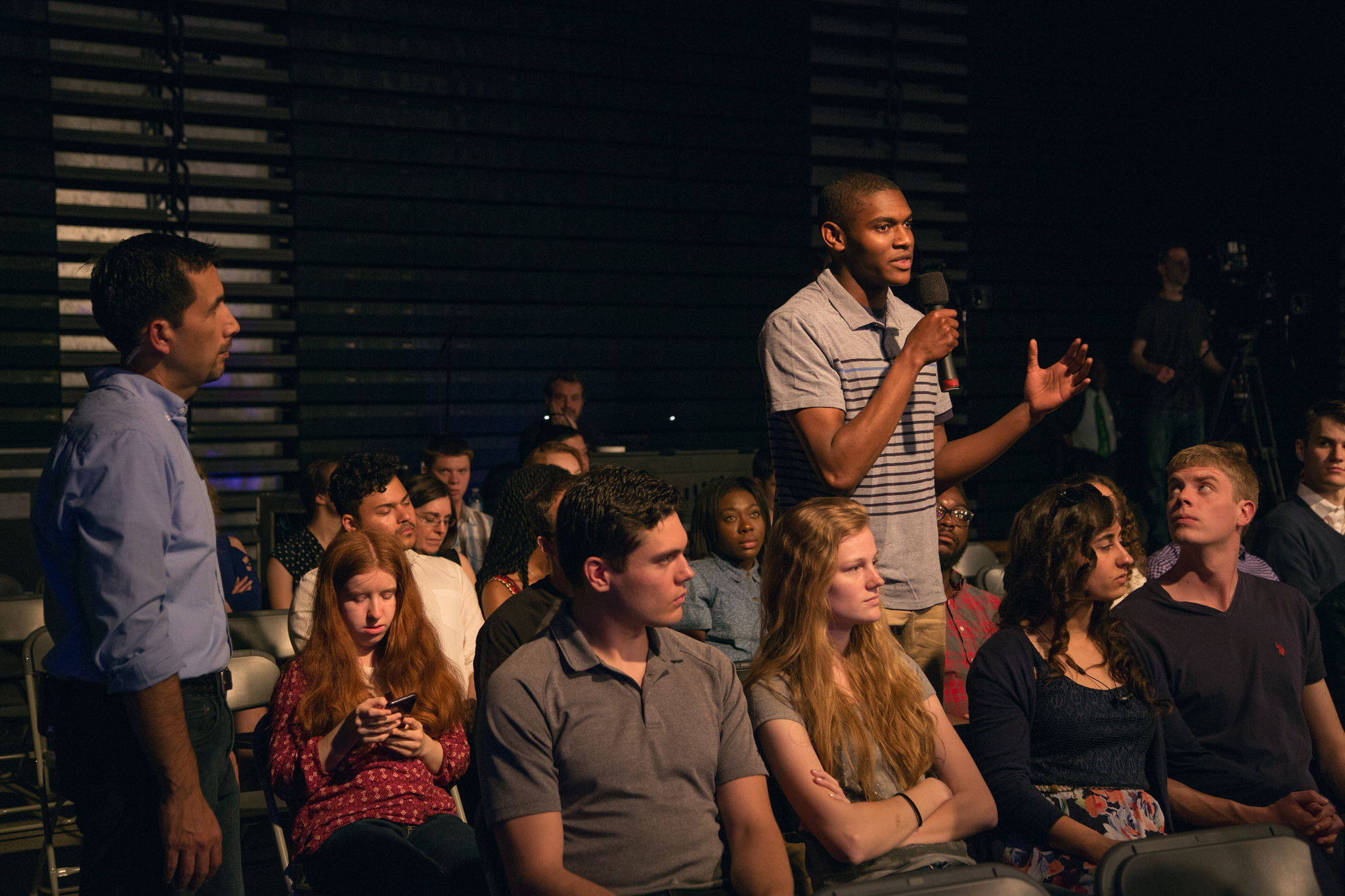 Being Connected
Andrew Yamada, a junior electrical engineering major at WWU, said, "When students walked into the gym and saw how serious the NAD was taking it with all the production value such as camera, lights, music, and social media, it really made us feel like they care about what we have to say—that we have a voice for the NAD and can express our concerns."
"I appreciate that the NAD leadership are willing and doing their best to seek out our voices," said Katie Folkenberg, a junior social work major at WWU. "I think they will need to prove themselves for a lot of youth in the church to show that, yes, they heard our voices, and they're going to try and make some changes within the church."
Near the end of the broadcast, Bryant talked about the importance of connecting with younger Adventists now. "I would like to challenge this body, along with other students across our division, to help us," he said. "I think we started out dealing with the generational gap in our church — help us bridge that gap by reaching out to our seniors. The North American Division church is getting older. And many of our students and young adults, when they go to church and they see some people who are so steeped in tradition, they just kind of check out."
Bryant continued, "I would encourage you: if you see your fellow students or brothers and sisters, help them to hang in there. It's not going to change overnight, but it will change, and we need you to help us to do that."
Evans, who is a new guest to the show, agreed, describing how more young adults have already been participating in church meetings. He said, "These particular sessions that we've been holding here in the North American Division with the young folks in our colleges and universities have been a great thing. We meet with our administrative committee, probably once a month for a number of hours. And what we learn in these kinds of meetings does not go unnoticed. We look to see what the trend is of our church, and how we can also help."
With some humor, Evans added, "And we do notice a younger group coming into our building all the time and, as some of us go out to pasture — as they say — we will see [more of] that. We look forward to hearing what you have to say. And we try to bring that into our everyday life in our office as we move forward."
After the broadcast ended, Evans and the other NAD officers stayed almost another hour answering questions. Jackson expressed his interest in continuing the dialogue, saying, "The plain and simple truth is: you are needed and you are wanted in the church. Help us."
Jackson encouraged those who remained to write him with suggestions on how the church should deal with the issues it faces. "I am very open to hearing your heart on this, so that we can consider what you have to say in more depth than we can afford in terms of time in a program like this."
Plans are underway for another live event and a recorded show. Questions may also be answered in the interim — use #NADnow when tweeting/posting questions.
— Go https://www.facebook.com/NADAdventist/videos/10157319638629409/ to watch the "Is This Thing On?" video; for more information, checkout the NAD Facebook page at https://www.facebook.com/NADAdventist; or visit www.ittoshow.org.
kmaran
Thu, 05/17/2018 - 19:41
---